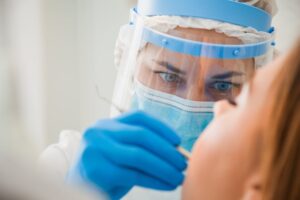 It is not uncommon to wonder if it's safe to go to the dentist during the coronavirus pandemic. After all, COVID-19 is proven to be highly contagious and it has infected more than five million people in the United States alone—but with the right safety precautions in place, risk of transmission can be greatly lowered. Visiting the dentist for necessary dental care is key in maintaining good oral health, and despite the presence of coronavirus in our daily lives we want our patients to feel secure in choosing our practice during these uncertain times. Our dentist—Robert Rioseco, DMD—and our team want to assure you that we are doing all we can to lower the risk of COVID-19 transmission in our office. Beyond the extensive sanitizing measures we follow normally, we have enacted a host of specialized precautions to further protect patients from the spread of the virus. Additionally, patients can be reassured by a recent study performed by the Massachusetts Institute of Technology (MIT) which found that dental appointments have one of the best risk-benefit profiles when compared to a wide range of other businesses providing everyday services.
The MIT study was published in the Proceedings of the National Academy of Science, a highly regarded and peer-reviewed scientific journal. The study evaluated 26 categories using a variety of key metrics to identify settings and services that are most essential and lower risk, versus those that are least essential and highest risk. MIT's researchers found that dental offices, along with banks and colleges, were among the categories with the best risk-benefit profiles during the pandemic. You can read the results of the entire MIT study here.
At The Center for Cosmetic Dentistry, we want patients to understand that we are not only following all state and federal COVID-19 safety guidelines—we are going above and beyond to minimize the risk of in-office exposure to coronavirus and other dangerous pathogens. Our stringent protection protocols include:
The use of personal protective equipment (PPE) for our entire team.
Accessible hand sanitizer and protective barriers.
Limiting the number of patients that are in our office and waiting room by offering fewer appointments and staggering appointment times.
Following social distancing guidelines where appropriate.
Requiring patients to wear masks before treatment begins and after treatment is complete.
Rigorous cleaning and sanitizing measures for every area of the office, as well as all dental tools and furniture.
Health evaluations for staff and patients upon entering the office (i.e. temperature checks and interview questions related to exposure and symptoms).
Installation of advanced IQAir® vacuum air filtration systems, which control ultrafine particles, airborne pathogens, aerosols, and other infectious material in the office environment.
If you have concerns about coming to our office for treatment, we encourage you to contact us. You'll have the opportunity to speak with a knowledgeable member of our team and learn more about how we are proactively protecting patients from COVID-19. Our goal is to keep every patient safe, comfortable, and smiling!