Root Canal Therapy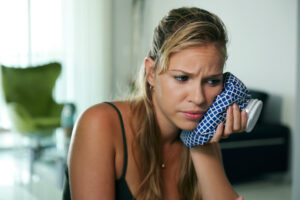 Endodontics, or root canal therapy, can sometimes be necessary to save a tooth that has been severely damaged by cavities, decay, or other problems. Here at the Center for Cosmetic Dentistry, Robert Rioseco, DMD, uses the most up-to-date equipment to make your root canal fast and comfortable. In many cases, your entire root canal procedure, including the creation and placement of a dental crown, can be completed in the same office visit. Root canal therapy can often be performed by Dr. Rioseco in the office, although some more complicated root canals may be referred to specialists in the area.
Benefits of Root Canal Therapy
Root canal therapy can often be the best hope for saving the health and function of an infected tooth. This procedure can eliminate infection and restore damage caused by excessive decay and/or cracks in the tooth. Root canal therapy also sometimes involves the treatment of an abscess, which can form when a tooth is heavily infected. A root canal is often a necessary procedure to not only save your tooth and relieve you of tooth pain, but also to prevent the infection from becoming worse and causing more serious health problems.
The Root Canal Therapy Procedure
Dr. Rioseco uses rotary root canal technology to complete root canal therapy. During the procedure, the infected nerve tissue will be taken out and the chamber holding the nerves will be sterilized in order to destroy disease-causing bacteria. A strong filling material is then used to seal the nerve chamber, and the tooth is then reinforced with a custom-designed dental crown. The crown is made to look and function like your natural teeth. The latest techniques are used to disinfect the tooth, and the advanced rapid filling technique assures a speedy finish. The crown can often be made in the same visit as a root canal treatment using the state-of-the-art CEREC® technology.
Contact The Center for Cosmetic Dentistry
If you would like more information on root canal therapy, or if you are experiencing pain, tooth sensitivity, or signs of decay or damage to your teeth, please contact The Center for Cosmetic Dentistry. Extreme cavities, decay, and trauma affecting your teeth can often be present without overt signs that there is a problem. It is important to undergo routine dental checkups and cleanings to find issues early and work to prevent problems from getting worse.