Robert Rioseco, DMD, FAGD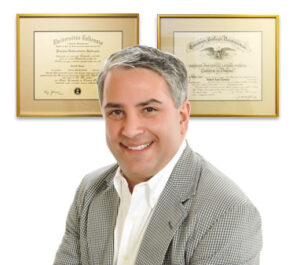 Dr. Robert L. Rioseco graduated from Tufts University School of Dental Medicine in 1991. Prior to receiving his DMD, he earned his undergraduate degree from Boston College, studying Biology and Studio Art, with a concentration in Photography. After dental school, Dr. Rioseco completed a General Practice Residency at New York Medical College in 1992.
Dr. Rioseco has also completed Masters Level training at the Rosenthal Institute of Cosmetic Dentistry at NYU. He maintains a private practice in general dentistry with a strong emphasis on cosmetic and full mouth reconstruction.
Dr. Rioseco is involved in many prominent professional organizations. In addition to being an Accreditation Candidate and Sustaining Member of the American Academy of Cosmetic Dentistry, he is a Fellow of the Academy of General Dentistry and a founding former Board Member of the Empire State Academy of Cosmetic Dentistry. He is also an active member of the American Dental Association.
In addition to managing his practice, Dr. Rioseco is the director of the Center for Cosmetic Dentistry, a teaching facility for advanced cosmetic dentistry and hands-on training in East White Plains (West Harrison), New York. His teaching interests include cosmetic dentistry, dental  technology, and design in the dental office. He is also a CEREC® Mentor and team teacher at the CEREC® Center in Scottsdale, Arizona.
"Dr. Rioseco is very passionate about his job, he makes sure his patients walk out having a great smile and fully satisfied with his services." ~ Evelyn
In his spare time, Dr. Rioseco enjoys spending time with his two children and is active in church music and fine art Photography. He has also done a couple of international medical missions, which provide care for patients in need and education for local professionals.
Dr. Rioseco's Treatment Philosophy
At the Center for Cosmetic Dentistry Dr. Rioseco's philosophy focuses on providing comprehensive diagnosis and care. For each patient, he creates a complete profile that includes all of their dental needs and desires. Next, he encourages them to choose a manageable timeline for completing the treatment plan. Sometimes a patient may opt to finish a treatment regimen very quickly, and other times it may be more feasible for them to complete it in a phased approach. After a patient's initial visit, Dr. Rioseco's ultimate goal is for them to come away with a complete assessment of their current challenges and what it will take to bring them to optimal dental health, function, and aesthetics.
Q & A with Dr. Rioseco
Q: What are your favorite procedures or areas of dentistry?
A: I really enjoy full mouth rehabilitation and high-end aesthetic cases. These are cases where the damage is severe and the results can be the most transforming for the patient. To regain your smile is to regain confidence in yourself. These cases can be life-changing for the patient and very rewarding for me and my team.
Q: What does a typical day look like at your practice?
A: Here at the Center for Cosmetic Dentistry, we do all phases of general dentistry. One minute we could be performing a smile makeover with porcelain dental veneers and crowns, and the next minute we may be doing Invisalign®, checkups, or fillings for kids and adults. It's a clinical potpourri all day long!
Q: What is your favorite piece of dental technology? And why?
We have cone beam three-dimensional x-rays and CEREC® technology. With CEREC®, crowns, bridges, and implant crowns can be made in a single visit. CEREC® is definitely the best thing that ever happened in dentistry. It has all but eliminated the need for rubber impressions. Furthermore, CEREC® has significantly increased the speed with which we can finish dentistry and the accuracy of the fit and precision of our work.
Q: What do you enjoy most about working with and helping patients?
A: We treat so many different folks at the Center for Cosmetic Dentistry – it's the variety of patients that come here I enjoy the most. Everyone has a story. Every case is emotional. When we can accomplish what no other dentist has been able to offer, and end up with a great result, that's the most rewarding thing of all.
Q: What are a few reasons that patients enjoy coming to see you?
A: Well, first off, it would be that I have a great team. From our front office staff to our hygienists, assistants, and our internationally known Laboratory Technician, I have chosen to surround myself with the best in the business. Next would be the fact that we have the best technology available in dentistry, but more importantly, we know how to use the machines we have to streamline patient care so that it is comfortable, fast, and painless.
For more information about the dental services we offer, we encourage you to contact the Center for Cosmetic Dentistry to schedule a consultation with Dr. Rioseco.