All-on-4®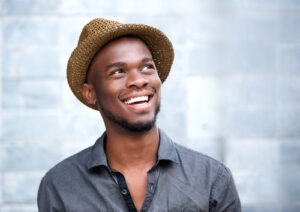 Patients with traditional dentures often experience "slippage" along the gums, which can lead to irritation or discomfort. In addition, traditional dentures require messy adhesives or pastes that become a serious inconvenience over time. Implant supported dentures can resolve these issues with a fixed solution that restores lost function and improves the aesthetics of the smile.
What Is All-on-4®?
All-on-4® is an implant denture technique that utilizes four strategically placed dental implants to secure the restoration to the arch. AACD-accredited cosmetic dentist Robert Rioseco, DMD can use this technique to replace the teeth of the upper arch, the lower arch, or perform an entire full mouth restoration. All-on-4® implant dentures are custom-made for each patient in order to achieve a superior fit with natural-looking results.
What Are the Benefits of All-on-4® Dental Implants?
All-on-4® dental implants can provide a number of unique advantages over traditional dentures, including:
Zero pastes or adhesives
A stable, reliable, and comfortable fit
Security when eating or speaking
No food restrictions
Simplified maintenance
Natural-looking, beautiful aesthetics
High satisfaction rate
The All-on-4® system can also serve as a solution for patients who seek the stability of dental implants, but are not ideal candidates for a full set of single tooth implants due to low jawbone density. In addition, implant secured dentures, such as All-on-4®, can typically be a more economical option for patients seeking to upgrade their traditional dentures.
What Should I Expect During the All-on-4® Procedure?
Most candidates for All-on-4® have no natural teeth on the arch receiving the implant supported denture. Since All-on-4® dental implants are made to replace an entire row of teeth, any remaining teeth on the arch can be extracted prior to the procedure. Four or more dental implants are strategically placed in the gums of the arch, depending upon the unique needs of the patient. Typically, a minimum of two dental implants are placed on either side of the front of the arch, and two additional implants are placed toward the rear of the arch and angled posteriorly. This alignment is designed to maximize the stability of the new denture. Over the course of several months, these dental implants are designed to fuse with the jawbone. During the healing process, a temporary restoration may be worn. Once the fusion process is complete, the final restoration can be attached to the dental implants to completely restore dental function and produce a beautiful smile. Tooth replacement options with All-on-4® include:
Upper Arch Replacement: replacing the upper row of teeth with four or more dental implants, and an anchored denture.
Lower Arch Replacement: replacing the lower row of teeth with four or more dental implants, and an anchored denture.
Full Mouth Restoration: replacing both rows of teeth with four or more dental implants per arch (a minimum of eight total), and two anchored dentures.
During the consultation process, Dr. Rioseco will perform an oral exam, discuss your personal goals, and help you decide which tooth replacement option is best suited for your needs. In some cases, Dr. Rioseco may recommend patients with low jawbone density opt to use six dental implants per arch rather than four for added stability and security. This modification of the All-on-4® method is often referred to as "All-on-6."
How Much Do All-on-4® Dental Implants Cost?
The cost of All-on-4® varies from patient to patient depending upon the specifics of the custom-designed treatment plan. Factors that can influence the price of implant supported dentures such as All-on-4® include the tooth replacement option selected, the total number of dental implants, laboratory costs for the manufacturing of the restoration(s), and the overall complexity of the procedure. Qualified patients interested in low monthly payment plans may consider taking advantage of the dental financing options. To learn more about accepted payment methods and dental financing at The Center for Cosmetic Dentistry, please contact our office today.