Porcelain Veneers
What Are Porcelain Veneers?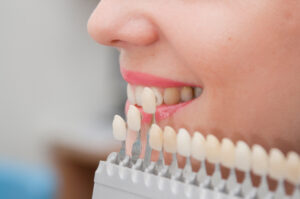 Porcelain dental veneers can successfully correct many common dental problems such as chips, gaps, stains, and even misalignments. These long-lasting treatments are designed to cover aesthetic imperfections with results that look incredibly natural. In many cases, porcelain dental veneers can even improve function of the affected tooth, and they are custom-made to provide you with the most accurate fit possible.
Our experienced cosmetic dentist, Dr. Robert Rioseco, can help you renew the appearance of your smile with beautiful results. To learn more about porcelain veneers we encourage you to explore the informative sections provided below:
Benefits of Porcelain Veneers
Porcelain dental veneers have proven time and time again to be an extraordinarily effective way of enhancing both form and function of the teeth. With porcelain veneers, you can improve a number of common dental issues, including:
Gaps and spaces between the teeth
Chips
Teeth misalignment
Stains and discolorations
Wear and tear among the teeth
During your initial consultation with Dr. Rioseco, he will explain all of the benefits these advanced treatments provide and help you decide if porcelain dental veneers are the right options for your needs.
Candidates for Porcelain Veneers
Most patients with relatively healthy teeth affected by one or more of the aesthetic concerns listed above are considered candidates for porcelain veneers. These individuals may desire to enhance the appearance and function of one tooth, several teeth, or their full visible smile for a complete smile makeover. In the event extensive decay or weakened tooth structure is problematic, however, Dr. Rioseco might instead suggest the placement of a porcelain crown. If you are considering veneers and are curious to find out if this treatment would be the best choice for improving your smile, contact our practice to schedule a consultation with Dr. Rioseco.
The Porcelain Dental Veneers Process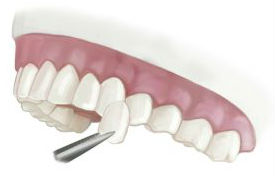 The porcelain dental veneers procedure begins with the removal of a very small portion of the tooth that is being treated. An oral impression will then be made to make sure the veneer fits as precisely as possible. The veneer, a thin sheath of strong porcelain, will then be custom-designed and placed on the visible part of the affected tooth with a durable cement. As a final touch, the veneer will be color-tinted to match your surrounding teeth for the most natural-looking results.
How Long Do Porcelain Veneers Last?
Porcelain dental veneers often last for many years, even decades. Although there is no guaranteed lifespan for porcelain veneers, there are many factors that can influence the durability of these restorations, including:
The technology used to design your custom veneers
The materials used to create your veneers
The quality of the dental lab used by your cosmetic dentist
The method of bonding the veneer to the tooth
The cosmetic dentist's level of training and experience
Dr. Rioseco recommends that patients who are prone to clenching or grinding their teeth wear a nightguard to protect against unnecessary wear. Maintaining good oral hygiene combined with routine oral exams with your dentist can also and prolong the lifespan of the restorations. Porcelain veneers can improve the appearance of your smile for a long time to come.
How Much Do Porcelain Veneers Cost?
Every porcelain veneer procedure is customized to meet the needs and expectations of the individual patient. Although there is no fixed cost for porcelain veneers, the average cost of a single-tooth veneer is $2000. At the end of your preliminary consultation, Dr. Rioseco will quote you a price for your custom-tailored porcelain veneer treatment plan. Factors that may influence the total cost of porcelain veneers include the location of the affected teeth, the number of veneers needed to rejuvenate your smile, and the overall complexity of the procedure. Many patients choose to take advantage of dental financing options to benefit from a low interest loan or flexible monthly payment plan.
Learn more about the cost of porcelain veneers.
Porcelain Veneers vs. Dental Crowns
Although both dental crowns and porcelain veneers can improve the appearance of the tooth, these two types of restorations are typically used to address different concerns. While porcelain veneers are ideal for enhancing the beauty of the smile and concealing a wide range of cosmetic imperfections, dental crowns are more often used to restore and strengthen a tooth that has been compromised by significant damage or decay. A dental crown prosthesis may also be used to complete a dental implant and replace a missing tooth. During the consultation process, Dr. Rioseco will perform an oral exam, discuss your cosmetic goals, and recommend which procedure is best suited for your unique needs.
Porcelain Veneers vs. Lumineers
Porcelain veneers and Lumineers® function very similarly and are designed cover cosmetic tooth imperfections. Lumineers® are a type of "no-prep" veneer, which means that little to no preparation of the tooth's surface is needed before the veneer is bonded to the tooth. However, this technique can lead to results that may look more conspicuous or artificial. In addition, Lumineers® are thinner than traditional porcelain veneers and machine-made, which some dentists believe to deliver a less aesthetically pleasing outcome. In contrast, custom porcelain veneers are each hand-crafted at a dental laboratory using high-quality ceramic material to achieve a great fit and natural looking result. For the greatest degree of smile enhancement and durability, Dr. Rioseco typically recommends custom porcelain veneers to his patients.
Contact The Center for Cosmetic Dentistry
For more information on porcelain dental veneers, or if you would like to schedule an appointment here at our practice to talk more about this procedure, please contact The Center for Cosmetic Dentistry.