Porcelain Veneers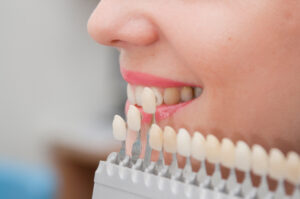 Common dental problems such as chips, gaps, stains, and even misalignments can be successfully improved with porcelain dental veneers. These long-lasting treatments are designed to cover aesthetic imperfections with results that look incredibly natural. In many cases, porcelain dental veneers can even improve function of the affected tooth, and they are custom-made to provide you with the most accurate fit possible. Our experienced cosmetic dentist, Dr. Robert Rioseco, can help you renew the appearance of your smile with beautiful results.
Benefits of Porcelain Veneers
Porcelain dental veneers have proven time and time again to be an extraordinarily effective way of enhancing both form and function of the teeth. With porcelain veneers, you can improve a number of common dental issues, including:
Gaps and spaces between the teeth
Chips
Teeth misalignment
Stains and discolorations
Wear and tear among the teeth
During your initial consultation with Dr. Rioseco, he will explain all of the benefits these advanced treatments provide and help you decide if porcelain dental veneers are the right options for your needs.
Candidates for Porcelain Veneers
Most patients with relatively healthy teeth affected by one or more of the aesthetic concerns listed above are considered candidates for porcelain veneers. These individuals may desire to enhance the appearance and function of one tooth, several teeth, or their full visible smile for a complete smile makeover. In the event extensive decay or weakened tooth structure is problematic, however, Dr. Rioseco might instead suggest the placement of a porcelain crown. If you are considering veneers and are curious to find out if this treatment would be the best choice for improving your smile, contact our practice to schedule a consultation with Dr. Rioseco.
The Porcelain Dental Veneers Procedure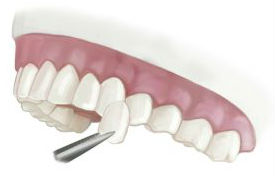 The porcelain dental veneers procedure begins with the removal of a very small portion of the tooth that is being treated. An oral impression will then be made to make sure the veneer fits as precisely as possible. The veneer, a thin sheath of strong porcelain, will then be custom-designed and placed on the visible part of the affected tooth with a durable cement. As a final touch, the veneer will be color-tinted to match your surrounding teeth for the most natural-looking results.
Porcelain dental veneers often last for many years, even decades. These innovative treatments can help to improve the appearance of your smile for a long time to come.
Contact The Center for Cosmetic Dentistry
For more information on porcelain dental veneers, or if you would like to schedule an appointment here at our practice to talk more about this procedure, please contact The Center for Cosmetic Dentistry.