CEREC® Tooth Reconstruction
Your time is extremely valuable to us, and that's why we have invested in CEREC® digital dentistry. CEREC® is a cutting-edge system that allows us to create and insert a natural-looking crown that fits your teeth perfectly, without having to leave your chair. It normally takes about an hour for your crown to be created and cemented in place in a procedure that used to take many days.
The Center for Cosmetic Dentistry one of only a handful of dental offices which incorporates this highly advanced technology into daily practice.
What's Involved?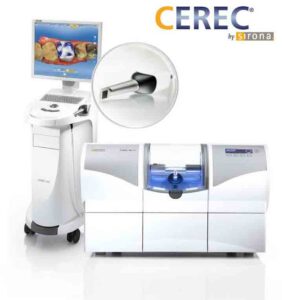 When you need to have a crown or an inlay made, Dr. Robert Rioseco designs the new piece with a special computer, and makes the crown on site in our laboratory.
The digital "impression" captured using a state-of-the-art 3D scanning system is considerably more accurate than traditional moulds and produces a crown with a far superior fit.
The crown is moulded out of a high-strength ceramic block by a 3D printer. It's is finished and cemented in the same day, with no messy moulds and no second visit.
The milling material produces a much stronger and more long lasting crown in a fraction of the time of normal crowns, allowing us to save you time in the chair.
Our patients rarely have a need for a temporary crown and we have all but eliminated second visits for many procedures which required multiple returns to the dental office.
CEREC® Ominicam Digital Impressions
We recently upgraded our CEREC® restoration system to Omnicam from Bluecam. This advanced digital optical impression technology can generate a 3D model of your teeth in color instead of black and white images. Omnicam can also take continuous digital impressions without the need for powder coating of the teeth. The best part about using Omnicam is that we can record and show you video clips of your teeth's 3D model so you can gain a better understanding of why you may need treatment. The technology also speeds up the already fast process of making crowns, porcelain veneers, and onlays, and it's accuracy can ultimately create even better-fitting restorations.
CEREC® Guide and CEREC® Guide 2 for Dental Implants
The Sirona CEREC® Guide and CEREC® Guide 2 (the upcoming generation of this technology) utilize 3D dental scans to generate custom surgical guides to be employed during the placement of dental implants. After the dental restoration is designed, the 3D images are used to digitally create a comprehensive surgical plan from which an actual drilling guide is conveniently and efficiently manufactured via CEREC® technology in about an hour. This guide is then handed off to the oral surgeon that Dr. Rioseco collaborates with to ensure the implant is positioned properly to deliver the expected results.
Contact The Center for Cosmetic Dentistry
Dr. Rioseco is specially trained at the Scottsdale institute for Dentistry, qualifying him over many other dentists, to fabricate full smile makeovers with CEREC® veneers in a revolutionary one-day procedure.
Please contact us today for more information, or to schedule an appointment.