Oral Surgery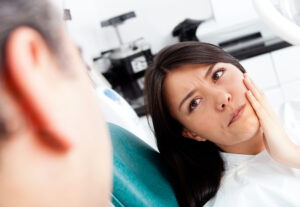 Oral surgery can sometimes be necessary for tooth extractions, wisdom teeth removal, placement of dental implants, and other procedures. Many of these procedures can be performed right here in our office by our dentist, Robert Rioseco, DMD. We also perform oral cancer screenings to identify problems within the mouth that could turn into serious health risks. Early detection and treatment is key to helping patients reduce the risk of developing life-threatening health problems and aesthetic issues caused by oral cancer.
About Oral Surgery
Oral surgery can be performed to treat gum disease, extract problem teeth, and improve a number of other dental issues. It is also a necessary component in restorative dentistry procedures such as dental implants. Dr. Rioseco has had extensive training in the area of oral surgery. Having completed a residency at New York Medical College, Dr. Rioseco has an extra year of training in a hospital setting, and is highly skilled with these procedures. Dr. Rioseco is proficient in the evaluation and team approach to more complicated surgical procedures such as:
Dental implant placement
Maxillofacial surgery
Also, Dr. Rioseco can often perform a number of minor surgical procedures right here at The Center for Cosmetic Dentistry, including:
Tooth extraction
Bone grafting
Periodontal surgery
Dr. Rioseco is committed to offering patients exceptional oral surgery procedures and successful results. Our entire team focuses on safety and quality, in addition to making your treatment as comfortable as possible.
Contact The Center for Cosmetic Dentistry
If you would like to schedule an appointment, or if you would like more information on oral surgery or other procedures available at our practice, please contact The Center for Cosmetic Dentistry.