Teeth Whitening
Professional teeth whitening treatment can reduce signs of yellowing and staining on your teeth and do wonders for the appearance of your smile. Our AACD- accredited cosmetic dentist, Robert Rioseco, DMD, offers two methods of whitening the teeth: in-office ZOOM® teeth whitening and an at-home treatment option. ZOOM® is a fast and affordable way to lighten the shade of your teeth with beautiful results, while our at-home kits offer you a way to brighten your teeth on your own time. Our experienced dentist can help you reach your goals with effective treatment options designed to give you a whiter, brighter smile.
Benefits of Teeth Whitening
Even with good dental hygiene habits, the teeth can be affected by a certain amount of discoloration over time. Teeth whitening is often a very effective treatment for patients who would like to renew the appearance of their teeth with a whiter and fresher look. ZOOM® teeth whitening has a number of benefits, including the ability to improve the appearance of yellowing and staining caused by:
Consumption of coffee, wine, and tea
The use of tobacco products
The natural process of aging
Over-the-Counter vs. Professional Teeth Whitening
With so many over-the-counter whitening products available, many of our patients ask if there is a difference between the products they can buy at their local store and the treatments offered by a cosmetic dentist. Certain over-the-counter whitening pastes, rinses, strips, and trays may help brighten the teeth by fading some surface stains, though their impact is usually limited. There are also popular natural teeth whitening options, such as charcoal teeth whitening powders and coconut oil teeth whitening techniques, that many patients try; however, they do not offer the effective, reliable results that can be achieved with the professional teeth whitening options we offer at our practice. Compared to over-the-counter products, in-office treatments like ZOOM!® and professional-grade at-home whitening kits both use stronger whitening agents for faster, more effective whitening. With the ZOOM!® technique, you can see same-day results that are up to six shades brighter! Our professional-grade at-home whitening kits offer strong whitening gels and custom-made trays for full-coverage of the teeth and noticeable whitening results. Regardless of which professional whitening treatment is chosen, our patients benefit from Dr. Rioseco's experience and expertise with these methods. His goal is to keep your teeth and gums healthy and protected, while giving you a whiter, more beautiful smile.
The ZOOM® Teeth Whitening Procedure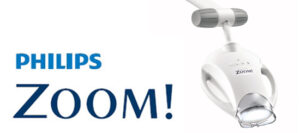 During the ZOOM® teeth whitening procedure, a special gel will be applied to the surface of your teeth. A low-intensity light will then be guided over the teeth, which activates the gel and allows for oxygen to penetrate into the dentin and enamel. This action is designed to create a bleaching effect, helping to reduce visible signs of yellowing and staining along the teeth. The entire treatment typically takes about an hour and-a-half or less, and results are often immediately noticeable.
At-Home Teeth Whitening
At-home whitening kits can be very effective treatments for patients who do not opt for the in-office treatment. With home whitening, the whitening product is placed in custom trays that fit over your teeth. The trays can be used daily until you have achieved the desired results. In many cases, patients can even perform at-home teeth whitening in tandem with Invisalign® treatment.
What Is the Best Teeth Whitening Option for Me?
There are distinct benefits to both types of professional whitening treatments we offer. If you are trying to achieve results quickly for an event such as a wedding, graduation, or reunion, you may prefer the efficiency of ZOOM!® teeth whitening. If you want to gradually control the shade of your teeth in the convenience and privacy of your own home, a professional-grade at-home whitening kit may be a better option for you. Dr. Rioseco will thoroughly explain the various benefits of ZOOM!® teeth whitening and professional at-home whitening treatments during your consultation. After examining your teeth and discussing your personal cosmetic goals, he will help you decide which option is best-suited for your needs.
How To Manage Tooth Sensitivity During & After Whitening
To minimize the potential for enhanced tooth sensitivity during and after your whitening treatment, Dr. Rioseco recommends using a sensitive formula toothpaste for at least one to two weeks prior to whitening. Using toothpaste for sensitive teeth helps fill porous surfaces that can lead to aggravated tooth sensitivity during and after whitening. He also suggests taking an over-the-counter pain reliever, like acetaminophen (Tylenol®) or ibuprofen (Advil®), about 20 minutes before whitening as a preventative measure.
Typically, sensitivity becomes most heightened once treatment is complete. If you undergo in-office Zoom! whitening, Dr. Rioseco may perform a fluoride treatment after bleaching to effectively mitigate sensitivity and strengthen teeth. He also advises patients that they can fill take-home whitening trays with sensitive formula toothpaste and then place them on the teeth for about 20 minutes to provide additional relief as needed.
How Long Do Teeth Whitening Results Last?
Although no method of teeth whitening is permanent, Dr. Rioseco offers a number of tips that can help your teeth remain white after your professional whitening treatment:
Maintain good daily oral hygiene to remove debris and reduce surface stains
Limit foods and beverages that are known to stain the teeth, such as berries, tomato sauce, red wine, tea, and coffee
Avoid all tobacco products
Schedule routine cleanings with your dentist
When you feel your teeth have lost a little bit of their luster, touch-up whitening treatments with an at-home kit can extend the life of your bright white smile.
Cost of Teeth Whitening
Depending upon whether you choose an at-home whitening kit, an in-office procedure (such as Zoom!® or Opalescence® Boost), or a combination of these treatments, the cost of teeth whitening will vary. The average price for professional whitening methods typically ranges from $300 to $700. The best way to find out the cost of a whitening treatment that can achieve your personal goals is to schedule a consultation with Dr. Rioseco. After an exam, he can give you a price calculation for your customized treatment plan.
Contact The Center for Cosmetic Dentistry
If you would like more information on our teeth whitening treatments, or if you would like to schedule an appointment with one of our cosmetic dentists, please contact The Center for Cosmetic Dentistry today.