Teeth Whitening
Professional teeth whitening treatment can reduce signs of yellowing and staining on your teeth and do wonders for the appearance of your smile. Our cosmetic dentist, Robert Rioseco, DMD, offers two methods of whitening the teeth: in-office ZOOM® teeth whitening and an at-home treatment option. ZOOM® is a fast and affordable way to lighten the shade of your teeth with beautiful results, while our at-home kits offer you a way to brighten your teeth on your own time. Our experienced dentist can help you reach your goals with effective treatment options designed to give you a whiter, brighter smile.
Benefits of Teeth Whitening
Even with good dental hygiene habits, the teeth can be affected by a certain amount of discoloration over time. Teeth whitening is often a very effective treatment for patients who would like to renew the appearance of their teeth with a whiter and fresher look. ZOOM® teeth whitening has a number of benefits, including the ability to improve the appearance of yellowing and staining caused by:
Consumption of coffee, wine, and tea
The use of tobacco products
The natural process of aging
The ZOOM® Teeth Whitening Procedure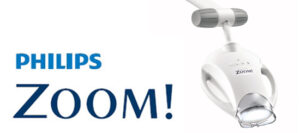 During the ZOOM® teeth whitening procedure, a special gel will be applied to the surface of your teeth. A low-intensity light will then be guided over the teeth, which activates the gel and allows for oxygen to penetrate into the dentin and enamel. This action is designed to create a bleaching effect, helping to reduce visible signs of yellowing and staining along the teeth. The entire treatment typically takes about an hour and-a-half or less, and results are often immediately noticeable.
At-Home Teeth Whitening
At-home whitening kits can be very effective treatments for patients who do not opt for the in-office treatment. With home whitening, the whitening product is placed in custom trays that fit over your teeth. The trays can be used daily until you have achieved the desired results. In many cases, patients can even perform at-home teeth whitening in tandem with Invisalign® treatment. One of our dentists will explain all aspects of in-office teeth whitening vs. at-home whitening treatments at your initial consultation and help you decide which option may be best for your needs.
Cost of Teeth Whitening
Depending upon whether you choose an at-home whitening kit, an in-office procedure (such as Zoom!® or Opalescence® Boost), or a combination of these treatments, the cost of teeth whitening will vary. The average price for professional whitening methods typically ranges from $300 to $700. The best way to find out the cost of a whitening treatment that can achieve your personal goals is to schedule a consultation with Dr. Rioseco. After an exam, he can give you a price calculation for your customized treatment plan.
Contact The Center for Cosmetic Dentistry
If you would like more information on our teeth whitening treatments, or if you would like to schedule an appointment with one of our cosmetic dentists, please contact The Center for Cosmetic Dentistry today.