Invisalign®
What is Invisalign®?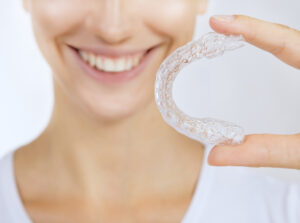 Invisalign® is a way for you to straighten your teeth or correct bite issues without the need for traditional metal braces. Using clear, removable teeth aligners, Invisalign® can improve problems with teeth crowding and misalignment in a treatment process that is less visible and often said to be more comfortable than other techniques. With Invisalign®, our cosmetic dentist, Robert Rioseco, DMD, can improve the look of your teeth without anyone else knowing you are undergoing treatment.
What Concerns Can Invisalign® Treat?
Invisalign® can be used to correct multiple concerns simultaneously to improve both the form and function of a patient's smile. Common misalignment issues and bite imperfections may include:
Crowded or crooked teeth
Gaps or space between the teeth
Overbite
Underbite
Crossbite
Open bite
Ideal candidates for Invisalign® typically have mild to moderate tooth misalignment. For patients with severe tooth misalignment, Dr. Rioseco may recommend an alternative method of straightening the teeth. To learn if you are a good candidate for Invisalign®, please schedule a consultation today.
Benefits of Invisalign®
Crooked and misaligned teeth, as well as over-, under- and cross-bite issues can be improved with state-of-the-art Invisalign® treatment. The benefits of this innovative procedure are many, including:
Clear aligners that are virtually undetectable by others
Less of a need to return to the dentist for maintenance and adjustments
More comfortable than metal braces
The aligners are removable for daily teeth cleaning, as well as eating and drinking
Often takes less time to achieve desirable results when compared to traditional braces
During your initial consultation, Dr. Rioseco will evaluate your needs and help you determine if Invisalign® is the best option for you.
Invisalign® vs. Braces
Invisalign® can offer many advantages compared to traditional metal braces. Most patients consider the nearly undetectable clear plastic aligners to be the number one benefit of Invisalign®. Since the Invisalign® aligners are removable, patients can also enjoy the freedom to eat whatever they like as well as have easy daily maintenance. Patients typically find Invisalign® aligners more comfortable than braces, and there are no wires or rubber bands that can break. Finally, patients can typically achieve their desired results with Invisalign® in less time than traditional braces would require. However, braces are still considered a more aggressive orthodontic solution and may be ideal for patients with severe misalignment or bite issues.
How Invisalign® Works: The Treatment Process
To begin the Invisalign® treatment process, an impression will be created from your teeth to ensure that the aligners will fit accurately and precisely. Once the Invisalign® clear aligners have been made, you will be provided with a set of aligner trays designed to progressively move your teeth into a more desirable position. Each tray is slightly modified from the one before it, and once you have worn one tray for two weeks, you will replace it with the next in the set. Although the aligners should be worn throughout the day, they are removable for eating, drinking, brushing, and flossing.
The entire Invisalign® treatment process usually takes about 9 to 15 months for the best results.

How Long Does Invisalign® Take?
The total treatment time for Invisalign® varies from patient to patient, depending upon their unique goals as well as the severity of their teeth misalignment. In most cases, the Invisalign® treatment process can be completed in about 9 to 15 months. Wearing the Invisalign® aligners consistently, for at least 22 hours each day, is essential for achieving the best results in the shortest amount of time. Patients who do not diligently wear their aligners as instructed may prolong the duration of their treatment with Invisalign®.
T-Scan® Bite Force Analysis For Invisalign
The final touch to any Invisalign® treatment is to ensure a proper bite. Once you have finished your treatment with the clear aligners, Dr. Rioseco will utilize the T-Scan® system to analyze your bite. He will ask you to simply bite down on the wafer-thin pad as it registers comprehensive information about your bite. The T-Scan® software then generates digital representations of your bite placement on the screen. These images provide a detailed illustration of the form and forces of your bite. Using the information the T-Scan® provides, Dr. Rioseco is able to easily determine which teeth need to be adjusted and reshaped to achieve a proper bite.
Invisalign® Teen
Invisalign® may be particularly beneficial for teenagers who might otherwise feel self-conscious in school or other social settings due to wearing metal braces. Invisalign® Teen is a version of Invisalign® designed especially for younger patients. Student athletes often find Invisalign® Teen superior to traditional braces because the aligners can be removed during sports, allowing a mouth guard to be comfortably worn. Invisalign® Teen also allows patients to remove their aligners entirely for special events such as dances, dates, presentations, or performances.
How Much Does Invisalign® Cost?
Since each treatment is customized to address the unique orthodontic needs of the individual, there is not one set price for Invisalign®. Factors that can impact the final cost of Invisalign® include the severity of misalignment at the beginning of treatment, the number of aligner sets required to straighten the teeth, and the diligence of the patient in wearing the aligners. The average price of Invisalign® can range from $1,800 to $6,500. A knowledgeable member of our staff can help you navigate your dental insurance benefits as well as inform you about the financing options available to our patients.
Learn more about the cost of Invisalign®.
Contact The Center for Cosmetic Dentistry
If you would like to schedule a consultation for Invisalign® with Dr. Robert Rioseco, please contact The Center for Cosmetic Dentistry. He will be happy to answer all of your questions and talk more with you about this advanced procedure.
Invisalign® has been proven to be effective in both clinical research and in practices nationwide, so whether your teeth are crowded, too far apart, or have shifted since wearing braces, you'll have a new reason to smile.