Invisalign®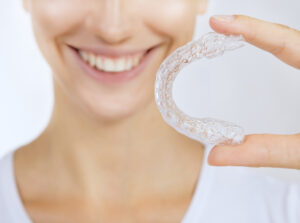 Invisalign® is a way for you to straighten your teeth or correct bite issues without the need for traditional metal braces. Using clear, removable teeth aligners, Invisalign® can improve problems with teeth crowding and misalignment in a treatment process that is less visible and often said to be more comfortable than other techniques. With Invisalign®, our cosmetic dentist, Robert Rioseco, DMD, can improve the look of your teeth without anyone else knowing you are undergoing treatment.
Benefits of Invisalign®
Crooked and misaligned teeth, as well as over-, under- and cross-bite issues can be improved with state-of-the-art Invisalign® treatment. The benefits of this innovative procedure are many, including:
Clear aligners that are virtually undetectable by others
Less of a need to return to the dentist for maintenance and adjustments
More comfortable than metal braces
The aligners are removable for daily teeth cleaning, as well as eating and drinking
Often takes less time to achieve desirable results when compared to traditional braces
During your initial consultation, Dr. Rioseco will evaluate your needs and help you determine if Invisalign® is the best option for you.
The Invisalign® Treatment Process
To begin the Invisalign® treatment process, an impression will be created from your teeth to ensure that the aligners will fit accurately and precisely. Once the Invisalign® clear aligners have been made, you will be provided with a set of aligner trays designed to progressively move your teeth into a more desirable position. Each tray is slightly modified from the one before it, and once you have worn one tray for two weeks, you will replace it with the next in the set. Although the aligners should be worn throughout the day, they are removable for eating, drinking, brushing, and flossing.
The entire Invisalign® treatment process usually takes about 9 to 15 months for the best results.

T-Scan® Bite Force Analysis For Invisalign
The final touch to any Invisalign® treatment is to ensure a proper bite. Once you have finished your treatment with the clear aligners, Dr. Rioseco will utilize the T-Scan® system to analyze your bite. He will ask you to simply bite down on the wafer-thin pad as it registers comprehensive information about your bite. The T-Scan® software then generates digital representations of your bite placement on the screen. These images provide a detailed illustration of the form and forces of your bite. Using the information the T-Scan® provides, Dr. Rioseco is able to easily determine which teeth need to be adjusted and reshaped to achieve a proper bite.
Contact The Center for Cosmetic Dentistry
If you would like to schedule a consultation for Invisalign® with Dr. Robert Rioseco, please contact The Center for Cosmetic Dentistry. He will be happy to answer all of your questions and talk more with you about this advanced procedure.
Invisalign® has been proven to be effective in both clinical research and in practices nationwide, so whether your teeth are crowded, too far apart, or have shifted since wearing braces, you'll have a new reason to smile.